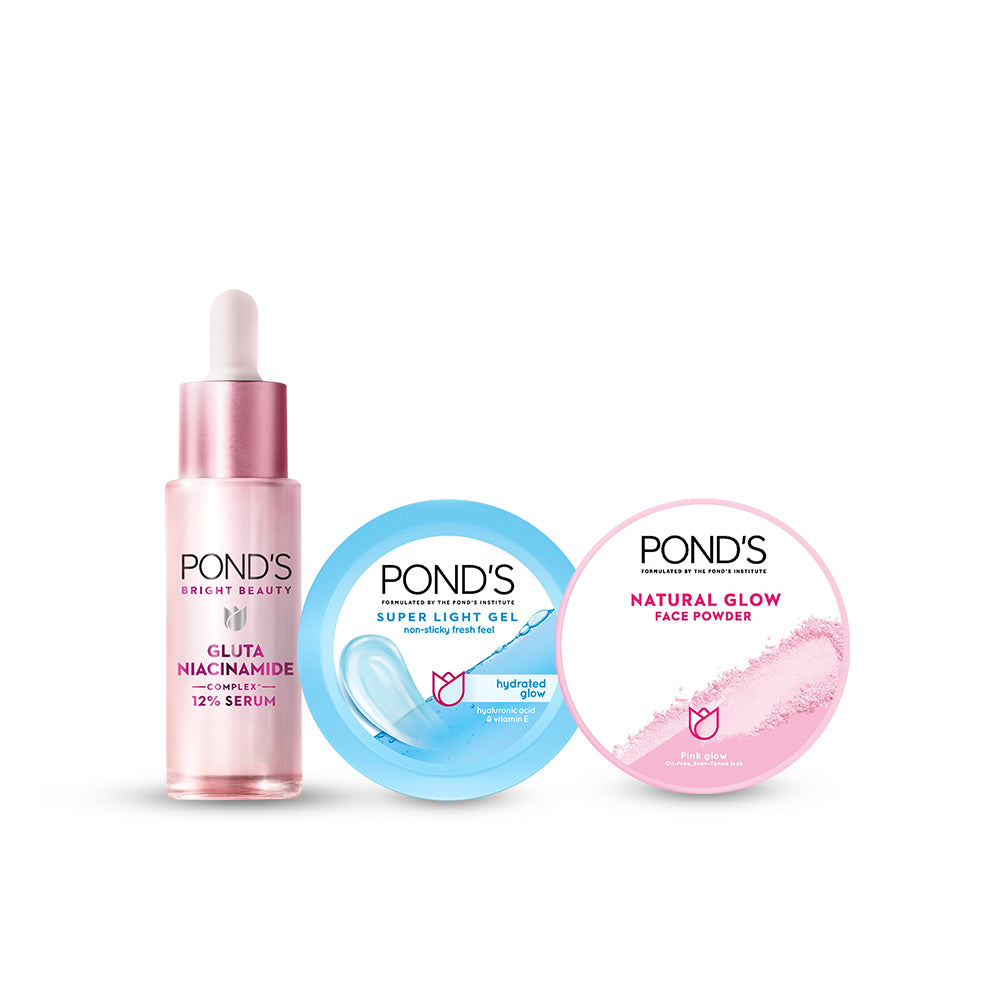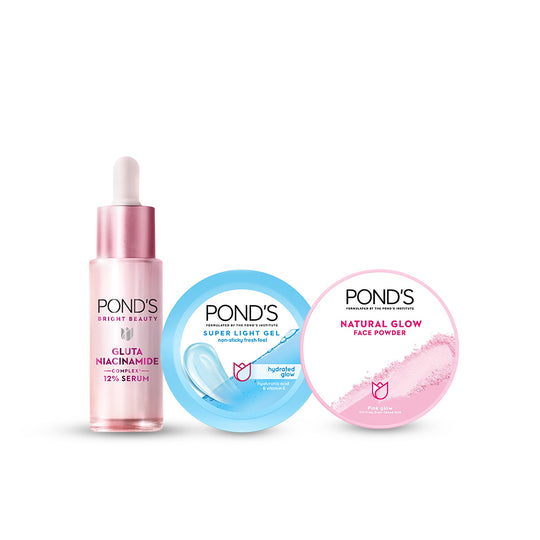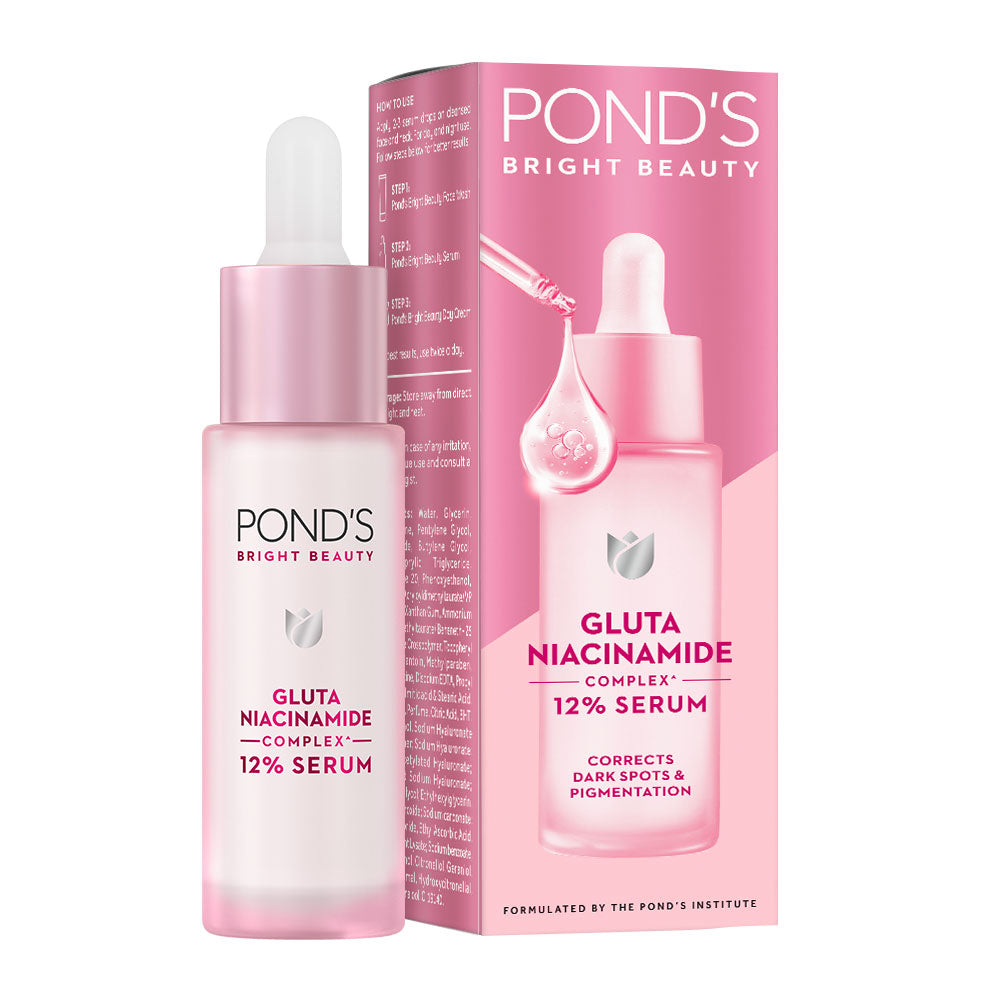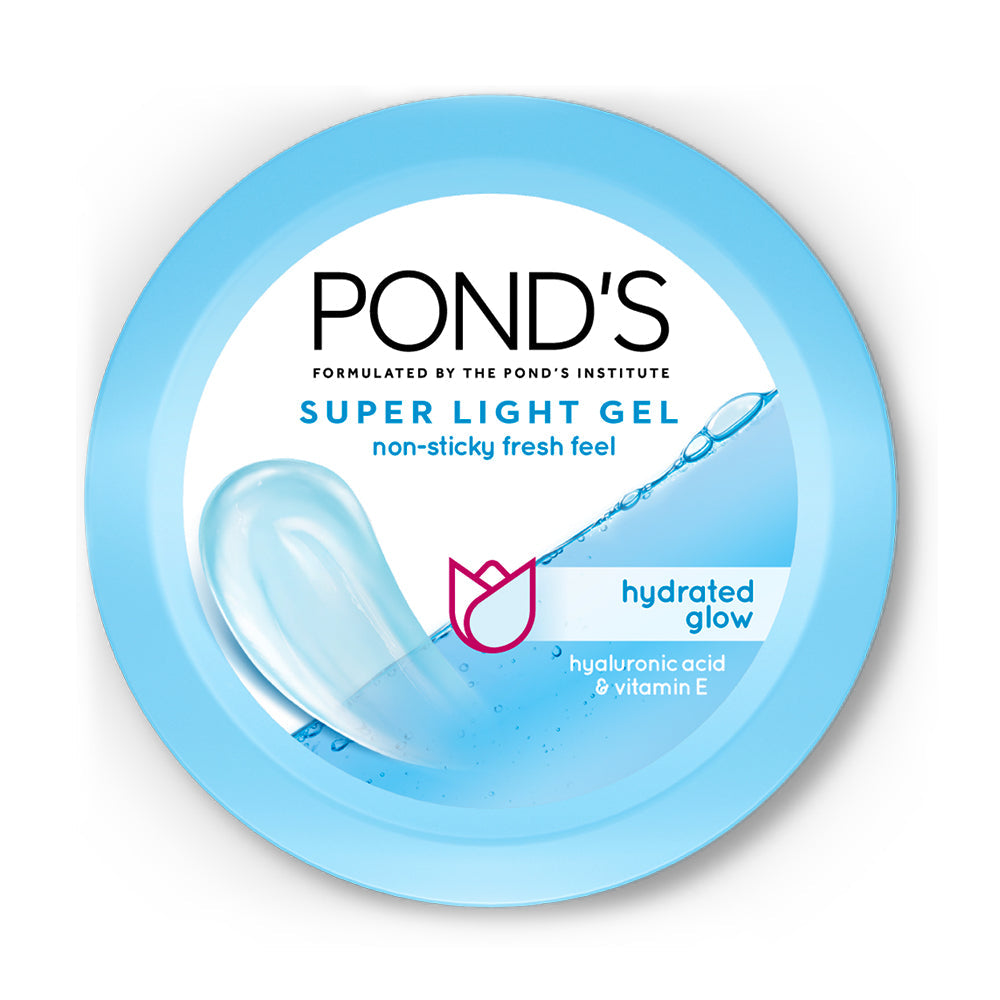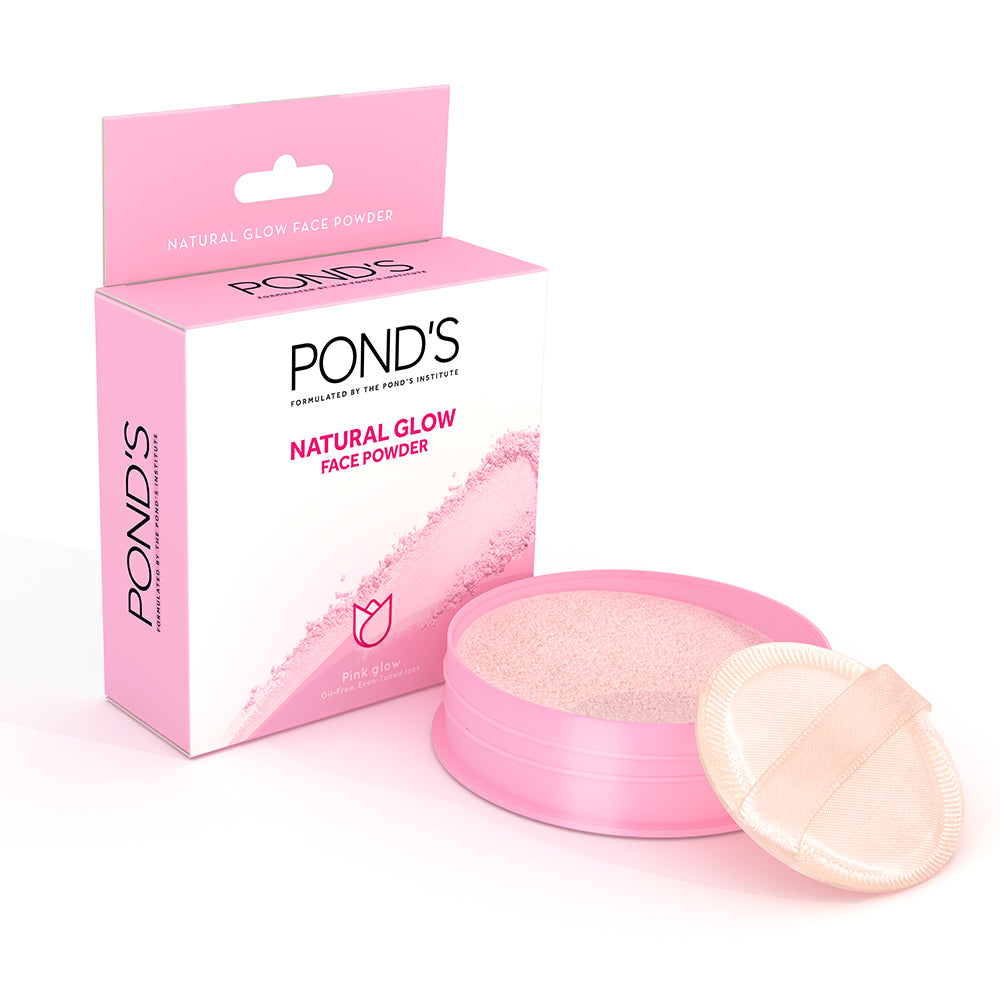 Combo
All You Need This Winter
|
Verified Reviews |
Write a review

Estimate Delivery
3-5 working days
Free shipping on
orders above ₹399
Description
• Pond's Bright Beauty Anti-Pigmentation Serum for Flawless Radiance with 12% Gluta-Niacinamide Complex, 28ml
Induced with 12% Gluta Niacinamide Complex, Pond's Bright Beauty Anti-Pigmentation Serum penetrates 10 layers deep to repair and brighten your skin. This serum uses advanced technology that reduces pigmentation & dark spots in two weeks and its been clinically proven to do so. With the goodness of Niacinamide & Glutaboost, our Pond's Bright Beauty Anti-Pigmentation serum will help dissolve your deep-seated hyperpigmentation, repair any skin damage & boost the brightness of your skin from within. 3 out of 4 women saw visibly brighter and clearer skin after seven days of regular usage. This powerful duo gets absorbed 2X faster into your skin than any ordinary brightening cream. The active ingredients present in our new formula will keep your skin moisturized & plump without feeling greasy. Here are the 3 steps to get flawless skin- cleanse your face with our facewash, then treat it with our anti-pigmentation serum and then apply our bright beauty serum cream for a flawless radiance. With 2x more active ingredients, this serum has unbeatable brightening power. For best results: use twice daily, once during the day and once at night. 91% of users will start seeing visible improvements in pigmentation & dark patches in just four days. Try it today and give your skincare regime a new direction.
• Super Light Gel with Hyaluronic Acid + Vitamin E
Looking for 24 hours of moisturization for your skin? Look no further! Introducing the all new Pond's Super Light Gel - your go-to moisturizer for all seasons. Infused with the goodness of Hyaluronic Acid, Vitamin E and Glycerine, this super light moisturizer absorbs faster than regular creams and gives 24-hour hydration for a water-fresh glow! It helps restore the moisture balance to keep your skin soft and smooth. Its lightweight formula absorbs into the skin instantly without leaving any sticky feeling, making it ideal for all seasons, even in scorching summers. Infused with moisture-boosting Hyaluronic Acid this moisturiser improves your skin's natural moisture holding capacity, making it soft, smooth and bouncy from within. Its non-oily formula keeps oiliness and stickiness at bay, keeping your skin feeling fresh and glowing from AM to PM. The 24-hour moisture lock technology locks in moisture deep within your skin all day long. Its super lightweight formula spreads easily on skin making it easy to apply. For all skin types and for all seasons, this moisturizer is the perfect fit for you throughout the year. Say goodbye to your moisturizing woes with Pond's Institute's first ever, lightest gel formula - the all new Pond's Super Light Gel.
• Pond's Natural Glow Face Powder - Pink Glow
All New Natural Glow Face Powder from Pond's, which not only gives you an instant brightness but helps control oil on your face to give you a long-lasting Matt look. A soft touch Powder formula with sunscreen that will help cover any dark spot and keep you glowing fresh all day long.
The new Pond's Face Powder is specially designed for various Indian skin tones and is available in 2 universal shades, BB Glow and Pink Glow. This perfect for all season usage face powder comes in a beautiful jar and has a puff for easy and even application. All you need to do is open the lid of the jar, pull open the sticker from the lid take a generous amount of powder on the puff and spread it across your face and neck.
No need to worry about the white patches from regular white face powders. Now get natural glowing skin without any heaviness of makeup, every day with all new Pond's Natural Glow Face powder.
Dermatologically tested formula with sunscreen, is your perfect partner for any outing, just apply and you are ready to step out looking your natural best.
Use twice daily for best results.
Other Information
Marketer Name & Address:
Hindustan Unilever Ltd, Unilever House, BD Sawant Marg, Chakala, Andheri East - 400093
Country Of Origin:
India
Net Quantity
Pond's Bright Beauty Anti-Pigmentation Serum for Flawless Radiance with 12% Gluta-Niacinamide Complex, 28ml,
Pond's Natural Glow Face Powder, Pink Glow 30 gm,
Super Light Gel with Hyaluronic Acid + Vitamin E 98 gm
---
• Pond's Bright Beauty Anti-Pigmentation Serum for Flawless Radiance with 12% Gluta-Niacinamide Complex, 28ml
Induced with 12% Gluta Niacinamide Complex, Pond's Bright Beauty Anti-Pigmentation Serum penetrates 10 layers deep to repair and brighten your skin. This serum uses advanced technology that reduces pigmentation & dark spots in two weeks and its been clinically proven to do so. With the goodness of Niacinamide & Glutaboost, our Pond's Bright Beauty Anti-Pigmentation serum will help dissolve your deep-seated hyperpigmentation, repair any skin damage & boost the brightness of your skin from within. 3 out of 4 women saw visibly brighter and clearer skin after seven days of regular usage. This powerful duo gets absorbed 2X faster into your skin than any ordinary brightening cream. The active ingredients present in our new formula will keep your skin moisturized & plump without feeling greasy. Here are the 3 steps to get flawless skin- cleanse your face with our facewash, then treat it with our anti-pigmentation... Read More
Marketer Name & Address:
Hindustan Unilever Ltd, Unilever House, BD Sawant Marg, Chakala, Andheri East - 400093
Country Of Origin:
India
Net Quantity
Pond's Bright Beauty Anti-Pigmentation Serum for Flawless Radiance with 12% Gluta-Niacinamide Complex, 28ml,
Pond's Natural Glow Face Powder, Pink Glow 30 gm,
Super Light Gel with Hyaluronic Acid + Vitamin E 98 gm
---