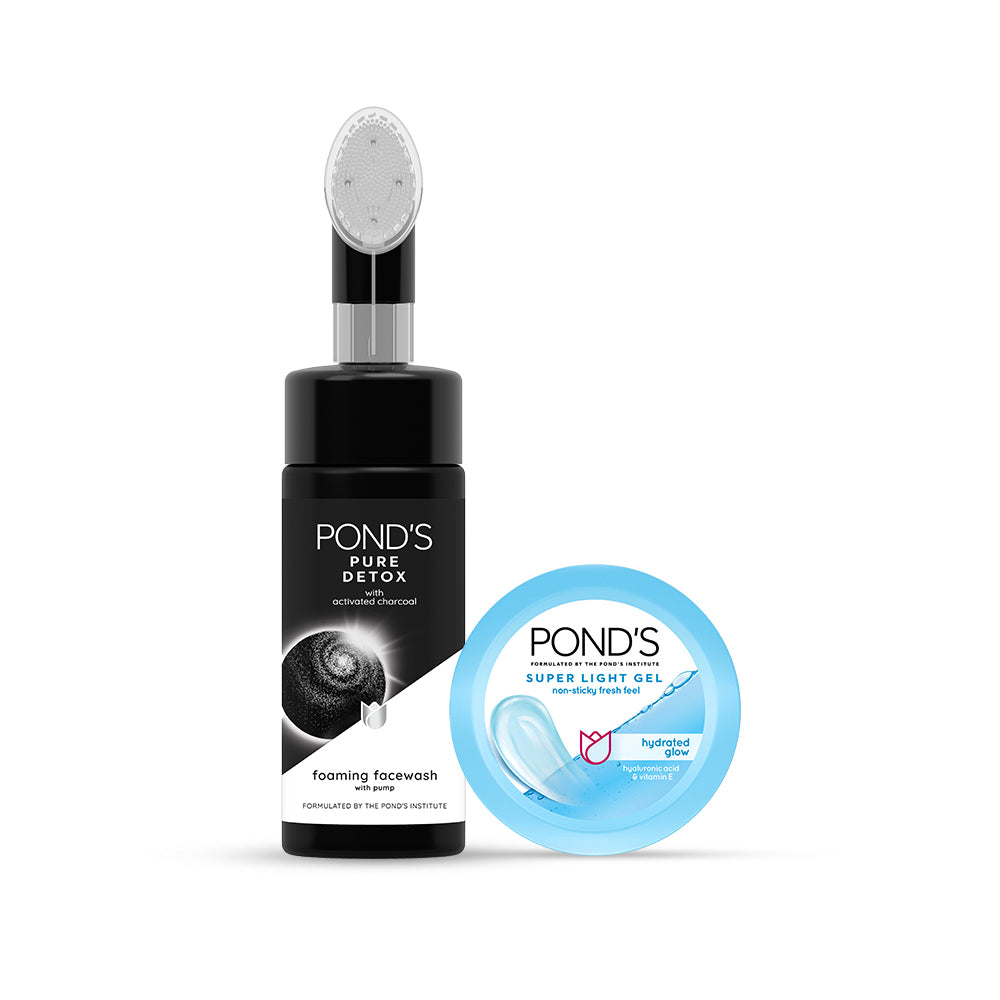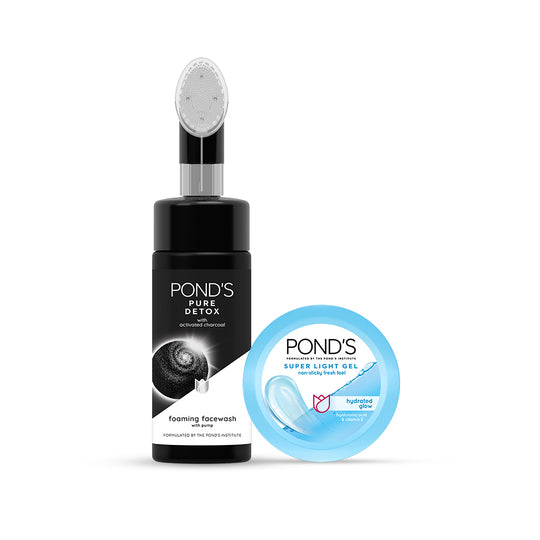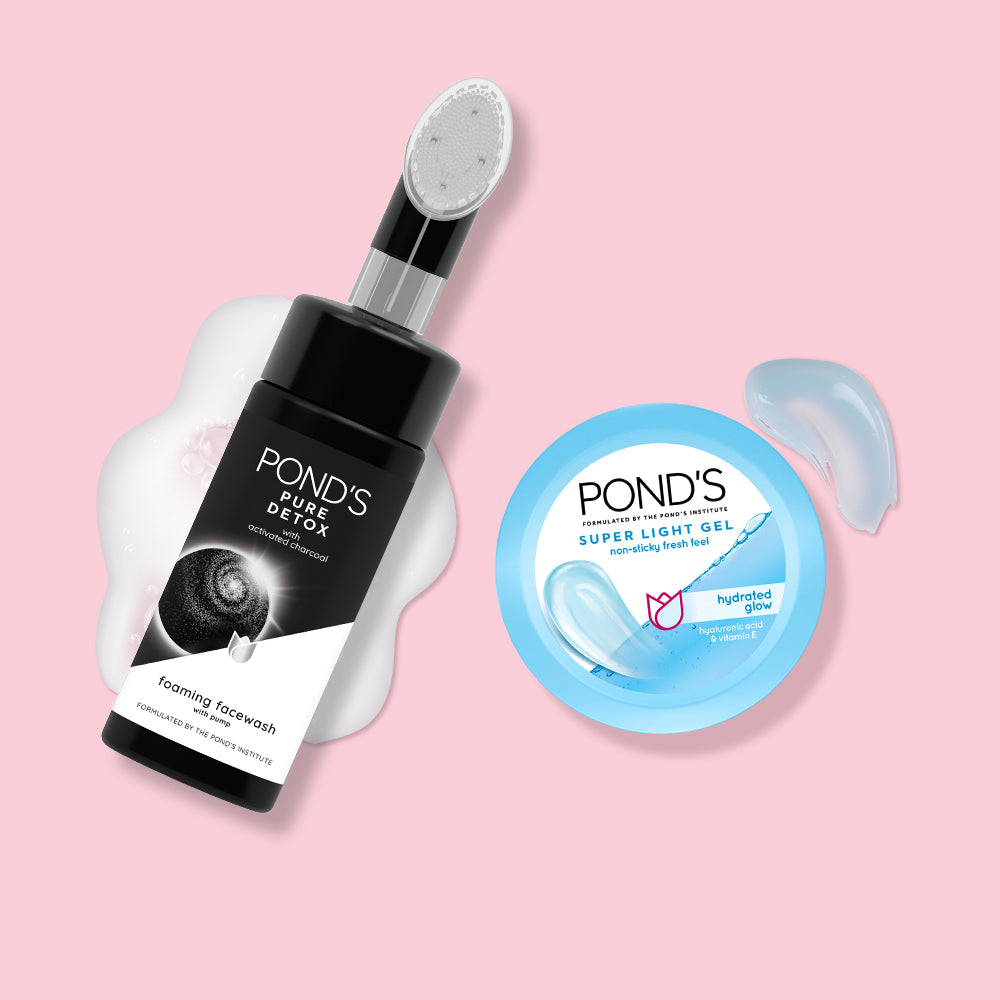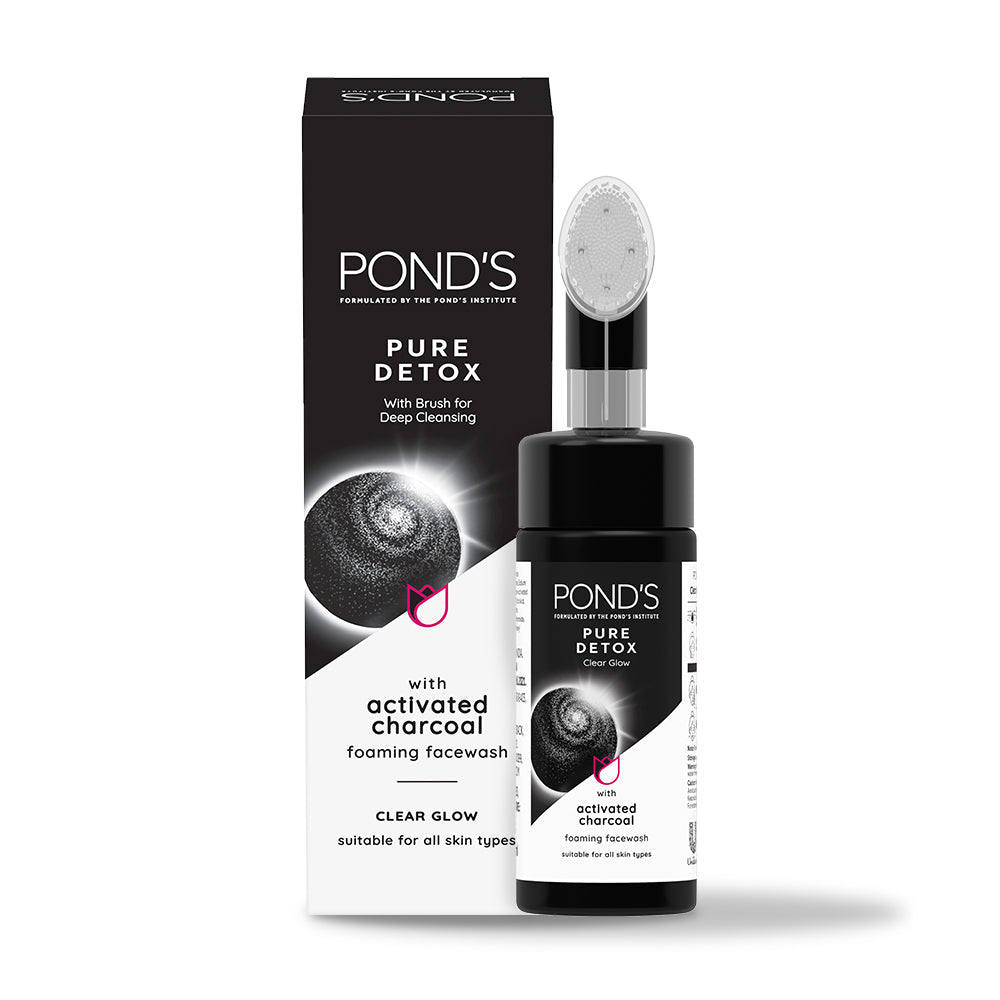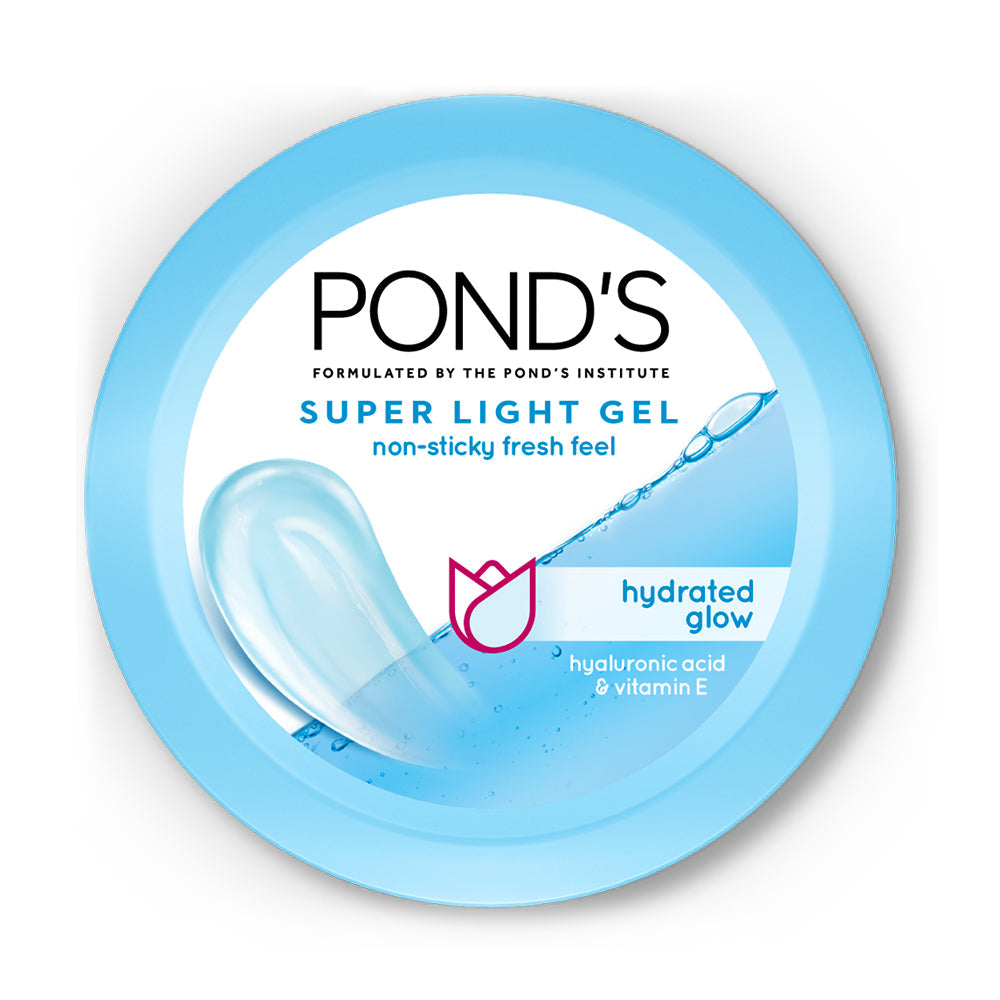 Combo
Dull Skin Fighters Combo
|
Verified Reviews |
Write a review

Estimate Delivery
3-5 working days
Free shipping on
orders above ₹399
Description
• Pond's Pure Detox Foaming Brush Facewash for Clear Glow, Gentle Exfoliation, Deep Clean, All Skin Types, (150 ml)
Losing your battle against dirt, pollution, and oily skin? We got you! #FoamUpToGlow with the Pond's Pure Detox Foaming Facewash with Activated Charcoal and let nothing strip you of your natural glow! Charged with Activated Charcoal, Pond's Pure Detox Foaming Facewash's creamy foam texture is a unique combination that is gentle on the skin but harsh on the dirt. For easy, mess-free application, it also comes with a built-in deep cleaning silicone brush that helps you exfoliate and remove dirt and impurities while cleansing your pores from deep within, giving your skin a fresh glow like never before! Free from silicone, parabens, SLS, and added colour, Pond's Pure Detox Foaming Facewash is lightweight and its naturally derived formula is effective in removing blackheads and whiteheads giving your skin a silky-smooth texture. Take charge of your skin and win your battle against impurities with Pond's Pure Detox Foaming Facewash and glow from within! What you will love about it: • Packed with Activated Charcoal that fights against all dirt and impurities. • Comes with a built-in deep cleaning brush that gently massages and exfoliates your skin. • Has a creamy foam texture that is gentle on the skin but harsh on the dirt • A biodegradable product made with naturally derived formulas. • Regular usage helps improve the skin texture.
• Super Light Gel with Hyaluronic Acid + Vitamin E (98 gm)
Looking for 24 hours of moisturization for your skin? Look no further! Introducing the all new Pond's Super Light Gel - your go-to moisturizer for all seasons. Infused with the goodness of Hyaluronic Acid, Vitamin E and Glycerine, this super light moisturizer absorbs faster than regular creams and gives 24-hour hydration for a water-fresh glow! It helps restore the moisture balance to keep your skin soft and smooth. Its lightweight formula absorbs into the skin instantly without leaving any sticky feeling, making it ideal for all seasons, even in scorching summers. Infused with moisture-boosting Hyaluronic Acid this moisturiser improves your skin's natural moisture holding capacity, making it soft, smooth and bouncy from within. Its non-oily formula keeps oiliness and stickiness at bay, keeping your skin feeling fresh and glowing from AM to PM. The 24-hour moisture lock technology locks in moisture deep within your skin all day long. Its super lightweight formula spreads easily on skin making it easy to apply. For all skin types and for all seasons, this moisturizer is the perfect fit for you throughout the year. Say goodbye to your moisturizing woes with Pond's Institute's first ever, lightest gel formula - the all new Pond's Super Light Gel.
Other Information
Marketer Name & Address:
Hindustan Unilever Ltd, Unilever House, BD Sawant Marg, Chakala, Andheri East - 400093
Country Of Origin:
India
Net Quantity
Pond's Pure Detox Foaming Brush Facewash for Clear Glow, Gentle Exfoliation, Deep Clean, All Skin Types, (150 ml)
Super Light Gel with Hyaluronic Acid + Vitamin E (98 gm)
---
• Pond's Pure Detox Foaming Brush Facewash for Clear Glow, Gentle Exfoliation, Deep Clean, All Skin Types, (150 ml)
Losing your battle against dirt, pollution, and oily skin? We got you! #FoamUpToGlow with the Pond's Pure Detox Foaming Facewash with Activated Charcoal and let nothing strip you of your natural glow! Charged with Activated Charcoal, Pond's Pure Detox Foaming Facewash's creamy foam texture is a unique combination that is gentle on the skin but harsh on the dirt. For easy, mess-free application, it also comes with a built-in deep cleaning silicone brush that helps you exfoliate and remove dirt and impurities while cleansing your pores from deep within, giving your skin a fresh glow like never before! Free from silicone, parabens, SLS, and added colour, Pond's Pure Detox Foaming Facewash is lightweight and its naturally derived formula is effective in removing blackheads and whiteheads giving your skin a silky-smooth texture. Take charge of your skin and win your battle... Read More
Marketer Name & Address:
Hindustan Unilever Ltd, Unilever House, BD Sawant Marg, Chakala, Andheri East - 400093
Country Of Origin:
India
Net Quantity
Pond's Pure Detox Foaming Brush Facewash for Clear Glow, Gentle Exfoliation, Deep Clean, All Skin Types, (150 ml)
Super Light Gel with Hyaluronic Acid + Vitamin E (98 gm)
---